Aerospace Ball Bearings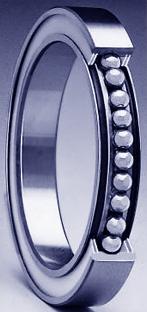 Ball bearing types are used extensively throughout aircraft airframe and engine design. Like their commercial brothers, aerospace ball bearings are the most versatile and well studied/engineered and manufactured of the bearing types. At this point their relationship with their commercial counterparts ends.
Every bearing within an aircraft's structure is normally considered important, even simple glacier bushings found in the seats you sit in come under strict scrutiny as they have to perform predictably in extreme emergency situations. More obvious bearing positions such as engines, APU's, linkage support bearings and all other hinge, swivel and many oscillating positions all fall with the standard deep groove ball bearings capabilities.
With aerospace requirements in mind, consistancy is vital and all deep groove ball bearings supplied come with a certificate of conformity. This provides a traceabale record of where the bearing was procured from. When the traceable path reaches back to the factory from where it was machined and assembled, the factory records should show from which batch of steel the rings where made from and where other components where made or procured from. Ultimately in the event of an investigation arising from a bearing failure, the root cause of the problem (if not maintenance orientated) should be quickly determined.
Aerospace deep groove bearings are usually charged with a pre-determined fill of Military Specification grease suitable for the application and environment in which the bearing operates. The Aeroshell range of greases are normally considered the unofficial industry standard with many grades and types delivering extremely wide temperature tolerances and high levels of stability when subjected to external contamination such as water condensation, anti-icing fluid etc. The amount or fill of grease given to each bearing is agian application dependant. Where continual rotation occurs a 25 to 30% grease fill is normall. For applications which cuase the bearing to oscillate, a higher fill is required (up to 80%, depending on the exact performance requirements).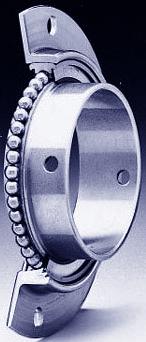 Due to the expense of testing and re-qualification of new bearing designs, many modern aircraft such as the later Airbus and Boeing versions still use bearings originally designed in the early 1950's. Although this may seem perverse, it should be born in mind that material quality has drastically improved in terms of bearing raceways, cages, rolling elements, seals/shields and of course lubricant's. In reality the bearings produced now to the designs made in the 1950's are worlds apart in terms of performance yet the original catalogue load and speed ratings still have to be applied as any deviation would mean expensive re-qualification requirements. Designers just have to be satisfied that they have an even greater safety margin behind them, yet frustrating an unknown and untested performance increase as well.
As many pieces of equipment, especially military, still use old imperial inch sizes (RHP, Ransom, Hoffman and Pollard) the demand is still present. Even old tolerancing systems such as BS292 are still required. Obtaining these bearings however can prove frustrating, especially in low quantities. AHR have been involved in just these cases for quite some time and we can normally source or help designers around these problems.
Contact us now and let us show you exactly what we can do for you.

© ARN Trading Ltd t/a AHR International 2010 All rights reserved