Thrust and Tilt pad bearings

Tilt pad bearings can be found in many medium to large scale applications. For example medium and heavy duty motors, turbines, gearboxes, compressors are all highly likely to have such devices. Thrust and tilt pad bearings are used where resistant to half-frequency bearing instability is desirable coupled with the optional ability to control and monitor thermal characteristics using built in sensors and materials.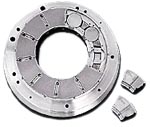 Thrust pad bearing sets are often found in milling and heavy machine applications. Like their tilt pad cousin, thrust pads rely on a hydro-dynamic oil film to transfer load to the pads.

AHR can also offer the option of repairing thrust and tilt pad bearings. In many cases the savings can be considerable but this will always depend on the size of the bearing involved and the severity of the ware or damage. We can offer repair possibilities on Waukesha, Kingsbury and other specialist manufacturers.
For more information, please contact us