Self-lube units®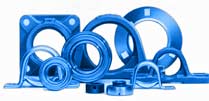 Self-lube unit® is a registered trade mark of RHP, an NSK brand. The term Self-lube unit® is used extensively as a generic term for this style of bearing. Normally consisting of either a cast iron or pressed steel housing with a bearing insert, the Self-lube unit® offers an easy to fit, maintain and replace bearing system. The bearing will cope with initial misalignment, they are sealed, pre-greased and have an integral shaft locking mechanism, hence you can easly bolt them in place and not worry about many installation and service issues.
See also: Deep groove | Angular contact | Taper roller | Sphericals plain | Rod ends | Needle rollers | Slewing rings | Housed bearings | Self lube units | Spherical roller | Cylindrical roller
Contact us now and let us show you exactly what we can do for you.

© ARN Trading Ltd t/a AHR International 2010 All rights reserved