Slewing rings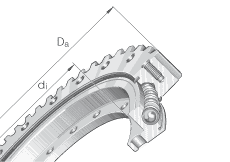 Slewing rings represent some of the largest bearings AHR can offer. Our range covers extends from 0.5 meters up to 8.0 meters. Many of our larger sizes can still be produced within a 120 to 160 day lead time despite material challenges.

Typical applications we have supplied for include lifting, mining, logging, earth moving, medical and military applications. The slewing rings we provide give a large scale solution for high loads and controlled turning. Our slewing rings come in many derivatives from common standard sizes through to specialist designs. All production facilities are ISO controlled with many external verification audits being conducted by our clients on a regualr basis.
Typical brands which AHR can help with include:


INA
Roth Erde
Rollix Defontaine
La Leonessa
BPW
PSL
Titanus
IMO
Torriani Gianni
RKS

BRB Technologies
Avon
Taperex
Kaydon
RIMA
Jost
Drecon
SKF
Slewing ring types provided include:


None geared
Outer ring geared
Inner ring geared
Ball, roller, ball & roller + cross roller variations
Use the links below to find out further information on AHR slewing rings:
Introduction | Light designs | Standard designs | Heavy designs | Cross roller designs | Special designs | Technical Support | Applications | Slewing ring's by User
See also: Deep groove | Angular contact | Taper roller | Sphericals plain | Rod ends | Needle rollers | Slewing rings | Housed bearings | Self lube units | Spherical roller | Cylindrical roller
Contact us now and let us show you exactly what we can do for you.

© ARN Trading Ltd t/a AHR International 2010 All rights reserved