AHR Slewing Ring Technical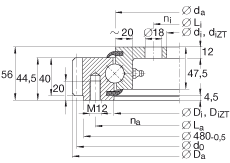 Most of AHR's slewing ring supply involves special designs to unique customer requirements. From special mounting holes to high performance materials and high running tolerances, AHR have provided twice as many special bearings as standard product. Due to the scale of most slewing rings they form a modest portion of most budgets hence the correct selection is critical. For this reason AHR have created a special technical form specifically for slewing rings. You can download this, complete it and forward it to AHR with any drawings, assembly descriptions etc. If you have any queries of course you are most welcome to call.
Click here to download the technical enquiry sheet as a PDF file or click here to download it as an MS Excel spreadsheet.
Installation information
The following points are only as a general guide but may help you build a framework for your own practice. Specific Applications may well demand different values in certain areas.
At all times while the slewing ring is being transported or stored the utmost care must be taken to protect the ring. If the ring is to be kept in the vertical then it is imperative that cross braces or supports are introduced before mounting to the vertical in order to stop deformation under its own weight.
Most slewing rings come un-greased unless they are to special design and as such only have a rust preventative coating. If rings are to be kept in storage for 9 months or more then continued observation should be kept on the rings and every effort should be made that they are kept cover, protected and in a suitable environment before assembly into their application.
Before assembly inspection of all facets should take place. If the ring is sealed then close inspection of the seal lip is recommended. If the bearing is to be greased then check that the lubricant is compatible with the anti-corrosion coating provided when the bearing was manufactured, if not the ring will require properly de-greasing. Mounting surfaces should be flat, true and clear of any contamination. Defects here will result in uneven running, excessive point load and excessive heat generation.
Ring concentricity and circularity must be ensured whilst mounting and under load. If this could be a problem then mounting pins can be introduced into the ring design to aid ring stabilisation.
The mounting orientation of the ring is very important. The Lubricant filler plug should be located at the point of lowest strain, i.e. at right angles to the main axis moment. Most rings have a high point of eccentricity which is marked in some way, i.e. a centre punch mark or paint. It should be ensured that this high point clears any obstacles such as gear pinions or parts of the general assembly as it or the parts rotate. The positioning of relubrication points should be such that access is easy.
Fastening bolts come in 8.8 by default but 10.9 and 12.9 grade bolts can be used depending on the demands of the application. All bolts should be lightly oiled and then mounted in a opposing mounting pattern in 2 or more stages of tightening which should provide a progressive means of securely clamping the ring to the assembly. Final torque values will depend on the bolt and application. During the bolting up procedure the ring should be turned at regular stages to ensure that no tight spots have occurred. After final assembly all mountings should be re-checked and checked again after a short period from first operation. Some form of annual or more frequent inspection should then be carried out thereafter.
Establishing wear limits for the slewing ring should be established by measuring the total deflection (closest to raceway) of the bearing under a pre-defined load. This will be the reference value against which in service measurements will be compared. If the bearing passes a multiple of approximately 3 (sometimes greater) on the initial reference value then the ring may well require replacing (subject to allowable application tolerances).
Slewing rings should be lubricated whilst they are slowly turned. Overfilling should be avoided as this may pop the seal(s) or cause hydraulic locking. If the seals are dislodged then they will require re-seating before any further operation is carried out. For standard applications any NLGI2 grease with normal EP additives should be suitable. Gear tooth lubrication should be performed immediately after assembly with any suitable open gear grease (usually brushed on).
Slewing Ring Identification
Identifying slewing rings can sometimes be hampered by part worn serial/part numbers or OEM only references. In order to help identify your slewing ring, we recommend the following.
Provide the machine model on which the bearing fits.
Provide a quick drawing giving with the following dimensions noted as accurately as possible.

Inner ring and outer ring diameters
Inner and outer flange diameters and heights
The height of the inner ring, outer ring and total assembled height
The PCD of mounting holes in the inner and outer rings. Also note hole size, through or blind and or taped?
Gear detail including number of teeth, approx tooth pitch, tooth height and depth + profile if possible.
Use the links below to find out further information on AHR slewing rings:
Introduction | Light designs | Standard designs | Heavy designs | Cross roller designs | Special designs | Technical Support | Applications | Slewing ring's by User
See also: Deep groove | Angular contact | Taper roller | Sphericals plain | Rod ends | Needle rollers | Slewing rings | Housed bearings | Self lube units | Spherical roller | Cylindrical roller
Contact us now and let us show you exactly what we can do for you.

© ARN Trading Ltd t/a AHR International 2010 All rights reserved